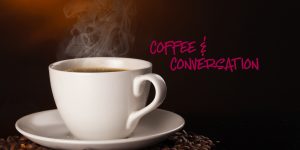 This informal group usually meets on the second Wednesday of each month from 9:30 – 10:30 AM AND on the fourth Thursday each month at the same time. The get-togethers are held at various locations including upstairs at the Java Stop at 310 Main St.;  outside at Roosevelt Park near 8th Ave. and Bross St.; and at Cavegirl Coffee at 100 Year Part Ct., depending on the week and time of year. There is no agenda for this group, just good coffee (and perhaps a croissant), good conversation and fellowship.  All members are invited to join the group anytime they are available.
For information and to get on the reminder list, contact Nan Andersson at 720-684-6651, nancyandersson76@gmail.com
---
It's 9:30 AM, the second Wednesday of the month.  WHERE ARE YOU?
It you aren't at The Cheese Importers, sharing coffee and conversation with fellow AAUW members, you are missing a good time!
Whether there are 4 of us or 14, we all agree that this relaxes setting is the perfect place to get to know long-term or new members, on a more personal level.  It is also a good way to introduce potential members to a few of us in an informal setting.
There is no agenda, so conversations range from travel tips to estate sales, current events to community events, family news to national news.  Sometimes, we even talk about issues before our AAUW board.  Whatever is on our minds that day, the conversation is always lively and engaging!
And, let's not forget the coffee!  To quote several members:
"Can't beat friends and cheese cake." – Alice Gordon
"Wonderful coffee, croissants, and good company = a perfect Wednesday morning recipe." – Andrée Dupont
"Coffee and pastries are the perfect complement to a lovely get together.  Try it – you'll love it!" – Carol Cook