Since 1952, our Branch has awarded $67,305 in scholarships.  Our giving started with one $50 scholarship to one Longmont High School graduating senior girl and has continued to grow …
Today, the purpose of these scholarships administered by the Longmont Community Foundation is to provide funding to encourage women to pursue higher education in order to increase their ability to have a positive impact in their field and community, including women returning to school to update their knowledge or skills.
At least one student each year will be selected to receive a $1,000 scholarship.  The scholarship will be awarded to one or more women who meet all of the following:
Has completed a minimum of 30 college credit hours at the time of application

Is currently working towards an undergraduate degree, graduate degree, or certificate at an accredited two-year or four-year college or university in the United States (full-time or part-time)

Is pursuing a career that promotes equity for women and girls, education, health, and or positive societal change

Has a cumulative GPA of at least 3.0

Has either graduated from a St. Vrain Valley School District high school or is a  current resident within the geographical boundaries of the St. Vrain Valley School District.
The Longmont Community Foundation manages our scholarship funds and the selection process for our scholarships.  Applications forms and procedures are posted on the Longmont Community Foundation website near the end of each calendar year, with an application deadline of mid-March the following year.  
For information contact Bev Schrenk, 303-772-7987, beverly.schrenk@comcast.net.
---
2020 Scholarship Recipients
AAUW Longmont proudly awarded $3,000 in scholarships to these outstanding young women in May 2020.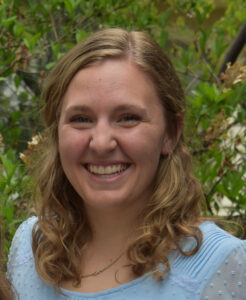 Elizabeth McNichols graduated summa cum laude from the University of Colorado in Boulder in Fall 2018 with a degree in Speech, Language, and Hearing Sciences and a minor in Leadership Studies.  She is currently pursuing a Doctorate of Audiology at the CU where she is studying the cause and management of hearing loss.  Elizabeth is involved in research concerning hearing perception in individuals with hearing loss and serves as a teaching assistant in her department.  Following graduation, she hopes to work with individuals with hearing loss and dementia because these conditions have been linked and patients need specialized care.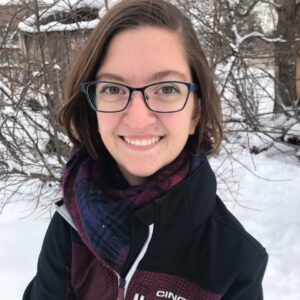 Susan DeTar is a junior at the University of Northern Colorado studying Criminal Justice with a minor in Communication. After graduating in 2021, she plans on becoming a police officer in the Boulder County area.  Susan participates on campus with the Residence Hall Association, Criminal Justice Society, and the LeadOn program. To advance her experience in law enforcement, she has been a volunteer cadet with the Boulder County Sheriff's Office, worked for the University of Colorado-Colorado Springs Public Safety department and currently works at UNC Campus Police.
Nichole Kain is an interdisciplinary scholar, working to build bridges between academia and industry relating to age-friendly community planning.  She uses her background in occupational therapy, gerontology, and city planning to enable people to age in the place of their choice. She hosts a podcast, Home and Place, to inspire others to use evidence-based methods in building homes and communities.  In May 2020 she embarked on a new professional journey, pursuing a PhD in Environmental Studies at Antioch University New England.  She will research rural aging/elder migration, place attachment, and policy to encourage the development of affordable lifelong housing in Colorado.
---
2019 Scholarship RecipientsLongmont AAUW Branch members are very proud to assist these four promising young women in reaching their academic goals by awarding scholarships totaling $2,500 at our Spring Fling event …
One for $1,000 to Sydney Blackburn, a rising senior at the University of No. Colorado, majoring in Elementary Education and Special Education.   Three $500 scholarships were awarded to Annie Birkeland, who is pursuing a Master's and PhD in Linguistic Anthropology at the University of Michigan; Kendra Brown, majoring in Forensic Science at Arizona State University; and Elizabeth McNichols, who will begin a Doctorate of Audiology program at the University of Colorado this fall.
In our recipients own words …
Sydney Blackburn

, "I have always wanted to be a teacher and find unimaginable joy in being able to influence …"
Annie Birkeland

, I want to "be an advocate for linguistic minorities and marginalized persons in society."
Kendra Brown, "My goal is to become a DNA analyst, not only to solve crimes but to continue to change the stigma that science is only for males."
Elizabeth McNichols, "Inspired by my mother's loss of hearing", I'm pursuing my doctorate to help others avoid what me family went through.